By Theo Thomas Google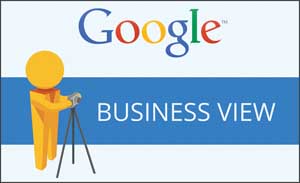 As many of you know by now Google have introduced the next stage of their Google Maps development called Google Business View.
Essentially this feature is designed to extend / enhance the user's search experience by allowing them to virtually enter your business premises and have a look around.
The logic here is both sound and well researched. Imagine if you will walking through a shopping centre with hundreds of shops when a shop which you are interested in catches your attention. What do you do? You walk in of course and have a look around. If you find something you want to buy you buy it and leave the store.
Google Business View allows you to enter a shop and browse around at your convenience. If that shop has something you want to buy AND they also have an E-Commerce facility you may then click through to their online shop and buy your item.
The beauty of the Google Business View system is that it can apply to virtually ANY business, even a home business. It doesn't matter if you have a mechanical workshop, a car dealership, a restaurant, coffee shop, factory, office or warehouse. A virtual walk-through can increase the appeal of your business exponentially.
I recently spoke to a plumber whose has a small home office and 3 vans. His dilemma was "how can Google Business View benefit me". Yep, you guessed it I had an answer for him. I suggested he take some photos of recent jobs he has done and get them blown up to poster size. Then put these posters up around his small home office and get the Business View surround photography to include his posters. Genius right?
Obviously Business View is open to cheating and abuse by the wombats who make it hard for everyone else. So to counter this Google have accredited select photographers from all over the world as Google Trusted Photographers. To have the Google Business View feature on your Google Maps listing you MUST contact a Google trusted photographer to do the photography. If you would like us to put you in touch with the nearest one to you then just send us your details via the contact form @ http://www.customonlineshopdesign.com/google-business/
Yes, you have to pay your selected photographer a fee to shoot the photos and that fee will depend on the physical size of the shoot. The fee is also a private matter between you and your photographer and no one else.
So do yourself AND your business a HUGE favor and get Google Business View BEFORE your competitors. If you'd like more information drop an email to theo@nobsseo.com.