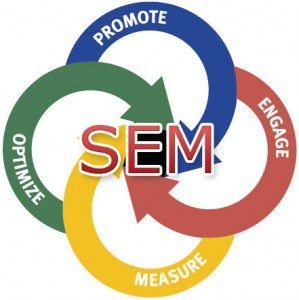 When promoting your website SEM (search engine marketing), Online Advertising and Social Media Marketing are a surefire way of getting noticed fast as well as being able to target specific consumer groups or industry sectors. Think about it for a minute. For someone to visit your website they need to be online right? So ……….. why not have your ads running online? Sure you could advertise on radio, billboards, TV, magazines or newspapers but then you are relying on people remembering you web address and going there the next time they are online. Sure, some will but most won't because they will forget. On the other hand if they come across your ad while they are online all they have to do is click on your ad and they go straight to your website. Even without researching the many studies which prove this beyond any doubt it simply makes sense doesn't it?
At No BS SEO we have a network of industry experts who specialise in various SEM disciplines. We assess your overall requirements and budget then put you in touch with local trusted proven business affiliates who can provide you with a well planned solution. The reason we use other businesses to provide SEM services is simple. Online Advertising and Marketing is a highly specialised field which requires highly trained experienced people who know what they are doing. We have yet to find an Australian company who is across the entire SEM field with a high enough level of expertise. There are many who say they are but the ones we have tested have not met our expectations. So we went out and found individuals who specialise in one or two SEM fields. These people have their own businesses and like us are totally focussed on the success of their clients.
Some of the fields they specialise in are:
Social Media Marketing
Adwords
Blogging
YouTube Production
By all means you can find your own professionals but by using No BS SEO you get people who we have vetted and recommend. Yes we do earn a referral fee but I can assure you we earn it by ensuring that you get the best service and the best value for money.
Call us on 02 8006 2994 during business hours or use the online contact form below.